THE MODERATOR – Fall 1997
Message from the President
It's been a breathtaking summer! Our own office, recognition in the Tri Party Agreement, a $1,000 contribution to CREHST, substantial "official" correspondence between us, DOE and Bechtel–the list goes on.
Most recently, the question was asked of us, "What period of time do we want to depict in the completed B Reactor Museum?" Come to the next meeting to find out what Del Ballard and Lyle Wilhelmi wrote for an answer.
We continue to make progress on other fronts, as well. I received a postcard from Jim Acord, who's in Alaska making some heavy money. He has promised that he will be back in time to bring us some conceptual sketches for the carving of the stones (remember the stones??).
I got a phone message from my manager while I was at Lake Chelan running an American Nuclear Society conference (which explains my absence from the September meeting–sorry). It seems that contractors were about to tear into a structure at B Plant, not B Reactor. Someone thought to check with Dee Lloyd. He apparently said "No, we can't do anything until we check with the B Reactor Museum people."
My management got involved when DOE started making frantic phone calls trying to get hold of me to get permission to continue the project. The message they got was that there were contractor people standing around waiting for a go-ahead from us before continuing work, and apparently I was the only one who could give it! This definitely got the attention of at least a few people.
I have mentioned before that due to the press of other commitments I must discontinue my service as your President when my term expires at the end of the year. We are now within three months of that time, and less than one month from election time at our November meeting. Please be thinking about the slate of officers for next year. I will be available to assist, of course, but wish to turn the day-to-day operations over to someone else.
We have a lot of momentum going, and in the right direction. The trick now is to KEEP GOING!
Regards,
Jerry Woodcock
President, BRMA
Elections for 1998 Officers
The BRMA elections for next year's slate of officers–President, Vice President, Secretary, and Treasurer– will be held at our November 10th meeting. A nominating committee will be appointed at our October meeting.
Please consider stepping forward and offering your name for an elected office. You'll have a real opportunity to further the goals of the BRMA!
BRMA Board Members
President: Jerry Woodcock
Vice President: Jim Stoffels
Secretary: Pam Novak
Treasurer: Roger Carpenter
Committee Chairs:
Fund Raising: (vacant)
Health, Safety, & Engineering: Del Ballard
History, Artifacts, & Exhibits: Lyle Wilhelmi
Membership: Joe Hedges
Public Relations: Jim Thornton
Editor: Gene Weisskopf
News and Tidbits
The Memorandum of Understanding we submitted several weeks ago is still within the DOE legal process. Until it is signed and we have a formal agreement, DOE will not give us access to their computer net. As soon as we have that access, our office at Bechtel will be more useful. At that point, we will publish our office phone number, and BRMA will have all the luxuries of a real office. Right now it is serving as storage for paperwork and our collection of memorabilia.
BRMA has asked that several graphite blocks that were once used for demonstrations at N Reactor and now at K Reactor, be transferred to B Reactor.
On October 5, a DOE sponsored tour of C & B Reactors will be held as part of the Large Scale Technology Demonstration open house. BRMA has offered assistance with the tours.
We are discussing the need to restate the BRMA mission, from that of convincing DOE that B Reactor should be set aside as a museum, to that of preparing B Reactor as a museum, organizing tours, and so on.
Money Talks
A very positive and productive step was taken by DOE, Bechtel, and BRMA on June 17, when representatives inspected the 105-B building for the purpose of identifying required facility upgrades and potential needs of the future "B Reactor Museum."
This work, along with the Phase I Study, is to be the basis for the Phase II Engineering Study, which the DOE in now including as a milestone in the Tri-Party Agreement. That milestone is titled "Issue B Reactor Phase II Feasibility Study Engineering Design Report for public comment" and is scheduled for June, 2000. Also included in recent revisions to the Tri-Party Agreement is the commitment to "Submit 105-B hazards assessment and characterization report to EPA" by June, 1999.
BRMA members are very pleased at these recent developments, which show that the DOE is committed to pursuing our objectives of preserving and converting the B Reactor to a public museum.
BRMA members are invited to the October meeting
Bring a friend, a spouse, or even better–a new member for the BRMA
Sunday, October 12, 1997, 4:30pm
Atomic Ale Brewpub and Eatery
1015 Lee Blvd.
(Just west of Jadwin)
The B Reactor Museum Association will hold it's October meeting at Atomic Ale, Richland's first brewpub restaurant. Although normally closed on Sundays, owners Aaron and Devin Burks are opening Atomic Ale's doors for the BRMA meeting (4:15, and the meeting will start at 4:30). We plan to have a great lineup of historical perspectives:
Gwen Leth, director of the Columbia River Exhibition of History, Science and Technology (CREHST), who will tell us what it's like to get a museum up and running.
Tom Marceau, who is responsible for cultural and historical artifact preservation on at Hanford; bring your questions for him!
Michele Gerber, historian at Hanford and author of On the Home Front: The Cold War Legacy of the Hanford Nuclear Site; one of Hanford's great historical resources.
While we expand our horizons, we can also expand the BRMA. Bring one or more new members to the meeting and you'll all be entered into a special raffle for great prizes.
You can dine from a select menu of tantalizing food, including Atomic Ale's gourmet wood-fired pizza, the irresistible B Reactor brownie, and more. Those of you who were lucky enough to come to our July meeting at Atomic Ale already know that the food is great and the special prices are quite reasonable.
You'll find a great selection of hand-crafted beers and ales, made right on the premises. You can order by the pint, or try a sampler of several microbrews. Soft drinks are available, too.
The Burks are always on the lookout for Richland and Hanford memorabilia that they can display at Atomic Ale. If you have a dusty treasure from the past that you'd be proud to include there, bring it to the meeting and you can work out an arrangement with the Burks.
Make October 12 a day of Richland history by stopping by CREHST on your way to Atomic Ale. The museum is open from noon to 5:00 on Sundays, and as a member of BRMA you'll get one free admission with the purchase of one paid admission. Just show the coupon on the back of this newsletter.
Come and join us on Columbus Day for a day of discovery, good food, and camaraderie, and help support our efforts to preserve the history that followed that day in Chicago when it was said that "The Italian navigator has landed in the New World."
Dupus Boomer
The Dupus Boomer character and cartoon are © Dick Donnell; all rights reserved.

If you still chuckle when you think of HEW, prefabs, dust storms, DuPont, bowling in the Rec Hall, and a town where just about every thing was "GI," then you no doubt remember Richland's own Dupus Boomer.
The brainchild of Dick Donnell (a DuPont employee starting in September, 1944), Dupus first appeared in the Richland Villager in late 1945. He cast an observant eye and ever-so patient tolerance towards life in the town that Hanford built. We are happy to present Dupus in the Moderator, where we expect he will add a bit of zest, wit, and fondness to these pages.
This month's edition of Dupus Boomer proves that some things never change. It comes to the Moderator through the courtesy of Roger Rohrbacher and his copy of You Asked for It, a collection of Boomer cartoons that appeared in the Richland Villager in the second half of the 1940s..
Gross Deductions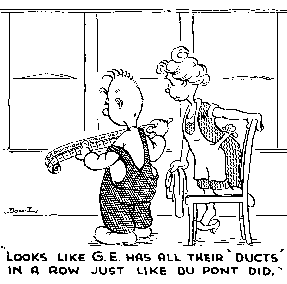 The Hanford Engineer Works urges its employees to always "keep their ducks in a row" on the job, and to show they really mean it, the company lines up its "ducts" every Friday. "Ducts" are things that if your paycheck didn't have them, it would be shorter but you could stretch it longer. And would it help!
[Dick Donnell]