THE MODERATOR – Spring 1998
From the Control Room
Lyle Wilhelmi
President, BRMA
So, what's new, you ask? Many, many things.
The Historic American Engineering Record (HAER) document that we're preparing on the history of B Reactor is moving along very well, due in most part to the efforts of Gene Weisskopf. He has prepared an extensive outline while discussing it with several of our members. Even better, the outline has been approved. Now to flesh it out!
Of great importance to this project is the questionnaire that you will find enclosed with this newsletter. We very much want our members to fill it out, especially the section about your area of B Reactor experience. If you want to get involved, this will help us match your experience with relevant sections of the HAER document.
We will also be tapping into our members for their own personal stories, so that the finished document will contain many first-hand accounts of those who were there when it actually happened. That's something that is rarely found in HAER documents.
The project is really getting up to speed. Miles Patrick is one of the first to be working with Gene on the water treatment and supply for B Reactor; Del Ballard is collecting engineering drawings and information on B Reactor's construction; Jim Stoffels volunteered an interesting preface for the document that we will consider; Jim Williams put together a time line that will help us show important B Reactor dates; and I am collecting information about 100-B area photographs.
Don Sandberg, while in Washington, D.C., went to the National Parks Service headquarters, where he found the HAER people to be enthusiastic about our project and our first-hand, very human approach to it.
All has not gone so well with the B Reactor Phase Two Engineering study, which will be very specific about what must be done to make B Reactor into a museum.
Due to some heroics by Madeleine Brown, the Hanford Advisory Board continues its support for this study, which is a Tri-Party Agreement milestone. However, it is currently not in the FY 2000 budget. A BRMA letter has been sent to DOE officials encouraging them to include FY 2000 funding for this study.
The B Reactor tours schedule has been brisk, due primarily to tours by visiting Russians. Some speak English very well and some not at all, but each group is accompanied by excellent interpreters. Roger Rohrbacher has been our B Reactor tours organizer, while also doubling as a tour guide. The ever-present Bill McCue and, on occasion, Miles Patrick also act as tour guides.
These and many other smaller projects are moving along well, though never as fast as we would like. But then again, perhaps it's about as fast as we can handle.
BRMA Board Members
President: Lyle Wilhelmi
Vice President: Jim Stoffels
Secretary: Pam Novak
Treasurer: Roger Carpenter
Committee Chairs:
Fund Raising: Pam Novak
Health, Safety, & Engineering: Del Ballard
History, Artifacts, & Exhibits: Madeleine Brown
Membership: Joe Hedges
Public Relations: Jim Thornton
Editor: Gene Weisskopf
Our HAER Project Goes Critical
Gene Weisskopf
After a meeting with Lyle, myself, and Tom Marceau in the first week of April, our HAER project officially went critical. That is, to me it now seemed that the project really did have a life of its own, and our job would be to shepherd it along and shape its growth, as opposed to being faced with a blank page.
To get to that point, it took sitting down with Tom, our Cultural Resources link at Bechtel, and having him ask questions about the proposed outline we had brought him, make comments, and generally nod his head in approval.
So hang on, because we're going to be quite busy over the next few months. And when I say "we", I mean we the BRMA. That certainly means myself as project coordinator and lead pencil, but it also includes you, you, and you, and oh yes, you over there gazing out the window.
As I've said before, I'd be more than happy to spend several months reading and writing about the history of B Reactor. It's an absorbing story of science, technology, global history, and extraordinary human efforts. But it already looks like I'm not going to have to do this alone.
Reviewers not Too Critical
Many of our members had already offered their assistance on this project, and while working on the outline I took a few of them up on their offers.
At several stages, I stopped and took the outline to a few of our members for their input: Tom Clement, Gene Eschbach, Joe Hedges, and Bill McCue.
Talk about opening the floodgates! One thing I've noticed about BRMA membership is that once they get "on topic," they're good for quite a few laps around the field. And this was just supposed to be a review of the outline. Time to put new batteries in the tape recorder.
To my relief, the outline fared quite well. No topics were thrown out, some were reduced in emphasis, and several new topics were added to several sections. We also added new items to the "should include" list of topics. These were a bit too detailed to appear in the outline at this stage, but I placed them in relevant sections where they'll be waiting for us as the work continues.
Many thanks to Tom, Joe, Gene, and Bill for their help at this early stage. Please understand that this was just the early work, and that your phones are sure to ring more than once over the next few months.
Of course, I must also thank our fearless leader, Lyle Wilhelmi, for his continued involvement with the project and his timely feedback on various issues. Del Ballard also gets high marks for putting in many hours helping to guide the direction of this document (he'd get higher marks if he hadn't skipped town for a few weeks).
We Want Your Input
With an outline to structure our project, we're now ready to start filling in the details; lots and lots of them. Here's how you can get involved.
You'll find a survey included with this copy of the Moderator, and we encourage everyone in BRMA to fill it out and return it, even if you aren't able to participate in any other way. The survey will give us a profile of our membership, including
When or if you worked at Hanford and especially in the 100-B area
Your work background and areas of expertise
The Hanford artifacts you have access to that you might make available to us
Other people you know who would be valuable participants in this project
Your comments about the topics we're including and those you feel we've left out
Your interest in spending time on this project, and the ways you'd like to get involved
So please take the time to fill out the survey; your efforts will be put to good use, and will be very much appreciated. Plus, you may be eligible to win a BRAND NEW CAR!! But then again, probably not
We Want Your Help
As the introduction to the survey explains, there are several ways to get involved in the project. First of all, if you really don't want to participate or are not able to, that's fine. Just don't check off any of those questions in the survey. Otherwise, you can choose to
Be available for an interview about subjects with which you're familiar.
Write a short account of a personal experience on one or more of the topics. Note that "write" means simply a rough draft; your thoughts are much more important than English 1A perfection.
Write more in-depth articles.
Research various topics or take notes from various references.
Read over material written by others.
Review plans or photographs for accuracy and relevance.
Be available for less exciting but equally important chores, such as licking stamps, providing a living room for several people to talk, making phone calls, etc.
Feel free to attach extra pages to the survey, and understand that the information is for our own use only. Many thanks.
Critical Mass
Speaking of growing towards a critical mass, the BRMA is expanding nicely, too. We picked up quite a few new members in the first few months of 1998, including William Brandt, Harold Campbell, Bob Ellis, Max Kreter, Terri Lutter, Richard Nelson, R.L. Smith, and Robert Thornton.
New member Bob Smith has volunteered to help out on the B Reactor tours, which puts a smile on the face of Roger Rohrbacher.
We're especially grateful to the sterling magnetism exhibited by our own Jim Thornton, who attracted seven of these new members into the group. Way to go Jim, we appreciate your efforts, and we're sure that those new members will also appreciate your bringing them into BRMA.
Care to Guess Who Said This? From a BRMA Oral History Interview
We were very short on electronics people, because the services had grabbed all who were available, so we were very shorthanded. In fact, my previous experience had been in theater sound work before the war, so I had some electronics experience.
I was called one day by the employment people, who said they had a man they were going to send out to me. They thought he might be a big help. And his qualifications were that he lived next door to a ham radio operator.
So that was about the type of electronics people we were getting at the plant [B Reactor]. Even then we were able to get the plant going and on schedule in good time.
Interesting Resources on the History of the B Reactor
While beginning the "mining" of the history of B Reactor, we've found some very useful resources. Or, rather, we've found some very interesting resources that bode well for future finds.
Of course, we're already surrounded by several skilled professionals in history, archaeology, and conservation, including our contact at Bechtel, Tom Marceau, and Michele Gerber and David Harvey. Their works have generated extensive bibliographies that are indispensable to our HAER project.
The Department of Energy has their Public Reading Room at the Consolidated Information Center here in Richland (that's the new library on the WSU campus). This is a local storehouse of Hanford-related documents. The public is free to browse the Reading Room catalog and its shelves, although materials may not be removed (a copy machine is available at 10 cents a page). The Public Reading Room's address on the Web is http://www.hanford.gov/doe/reading.htm.
Here we have access to the multi-volume Design and Construction History of Hanford Engineer Works that was written by DuPont at the end of WW II. Unfortunately, it is a photocopy of a copy of a carbon copy, so it makes for rather tedious reading.
An even richer source of DuPont materials is the Hagley Museum and Library, which is located on the grounds of the original DuPont Company powder works near Wilmington, Delaware. They have an excellent Web site with extensive access to their catalog: http://www.hagley.lib.de.us/
Many items in their collection are measured either in volumes or lineal feet of shelf space, such as Crawford Greenewalt's seven volume Manhattan Project Diary, 1942-1945, and the papers of Colonel Frank Matthias, which occupy two linear feet of shelf. Then there is DuPont's Hanford and Clinton Records, 1942-1975, which takes up four feet of shelf space.
There are other intriguing chunks of glitter within their catalog, and we will be returning to it more than once. The DOE is making recently declassified documents available on the Internet at http://www2.hanford.gov/declass/declass.htm
Here we have found reports written by several of our BRMA members, including Reactor Gas Leak Repairs, Rear Gunbarrel Cavity Filling—B Reactor. It was written by Tom Clement in 1967, and illustrates an issue that may not be documented elsewhere.
Those are just a few samples of the resources we'll be digging into. Finally, if you're interested in the National Parks Service HAER program, you can turn to http://www.nps.gov/crweb1/habshaer/
You can browse the Built in America Web site of the Library of Congress at http://lcweb2.loc.gov/ammem/hhhtml/habshome.html
where you can search through their complete catalog of HAER and HABS (Historic American Building Survey) documents. You'll also find a few representative documents in their entirety.
Between these extensive resources and our own BRMA membership, it looks as though we won't be lacking in information. Of course, we also want to finish this project before August (and that's 1998). So we're not planning to create the definitive work on B Reactor, but it nonetheless promises to be a very full story.
If it's Spring, then it must be time to visit Atomic Ale?
Sunday, May 17, 1998 at 4:30pm
1015 Lee Blvd, Richland, just west of Jadwin
Aaron and Devin Burks are once again opening the doors of their restaurant and pub to the BRMA, and us alone. Atomic Ale is normally closed on Sunday, but we'll be having our May meeting there on the 17th. If you've been to one of our meetings there before, then you know the routine. If you haven't, you're in for a treat:
Our Atomic Ale meetings are a time for relaxing, socializing, and enjoying our company, with some B Reactor topics to round out the day.
Bring your family and, to make the day perfect, bring along a friend who wants to join BRMA. You'll find an application form on the back of this page, and there will be plenty more at the meeting.
Hope to see you there!
Is It Classified or Declassified?
Gene Weisskopf
Secrecy was no laughing matter at Hanford during the production days. There were only a handful of people who knew the entire production story at Hanford, and just a few in any given line of work who knew the processes that came before and after their own duties.
In general, you were only supposed to know as little about the process as you needed to get your job done.
If you were controlling the water pumps in the 100-B area, you didn't have to know that the water was cooling the world's first industrial scale nuclear reactor. You just had to keep the pumps running and the water flowing.
On several occasions at BRMA meetings, someone (usually Roger Rohrbacher) has asked about discussing what might still be classified information. After all, our group is all about preserving the history of B Reactor, but how much of that history are we allowed to talk about?
But you can all relax now, because we have received what appears to be a definitive opinion on these matters of secrecy. No, a proclamation to that effect was never made by the Pope, but there has been a report issued by the Project Hanford Management Contract (PHMC) Classification Office.
Roger R. had contacted Rick Stutheit, who manages classifciation issues, while I had used e-mail to track down David Briggs, a classification officer. David sent me copies of the PHMC Classification Desktop Reference, a Web site on a DOE intranet. It outlines what topics are still considered classified, and how classified documents are put through a test to determine whether they should remain that way. Mr. Stutheit summarized the issues:
In general, there should not be anything that is classified about the construction and operation of the reactor. Hanford plutonium production and tritium production are unclassified. The amounts that were shipped offsite for weapons purposes are still classified. The amount used in a device [bomb] is classified. The fact that most of our production went to the weapons program is not classified.
If you'd like to look at the Classification Desktop Reference (several pages), I'll be bringing it to our next BRMA meeting. Or give me a call and I'll send you a copy.
Dupus Boomer
The Dupus Boomer character and cartoon are © Dick Donnell; all rights reserved.

This month's Dupus Boomer cartoon coattails onto our discussion of secrecy. The Smythe Report, written at the end of WW II, told the offical story of the Manhattan Project and the making of the atomic bomb. Because it discussed what had been top- secret information, the material it presented was, by definition, no longer classified and could therefore be discussed openly. Hence, the Boomer reference to a topic of discussion that does not appear in the Smythe Report.
Quiet Please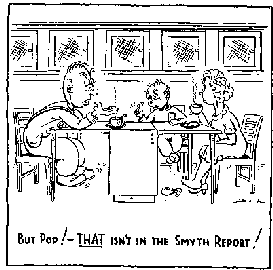 The security program at the Hanford Engineer Works was arranged in such a way that if you did know something confidential you weren't allowed to divulge it, but you couldn't have, even if you would have, because you didn't. It was always a good idea to remember what you wrote because sometimes the copies of your own letters were classified as too secret for you to see.
[Dick Donnell]