The Manhattan Project's Hanford Unit celebrates NPS Centennial
Ray Murray, National Park Service
Just ten months old, the Manhattan Project National Historical Park's Hanford Unit celebrated the National Park Service Centennial on September 29-October 2, 2016, with three community events that introduced visitors to the Park through music and outdoor recreation, raised more than $10K for the Park, and forged ties with community and corporate partners. Thank you Washington State University, Mid-Columbia Mastersingers, REI, Bike Tri- Cities, and Visit Tri-Cities for being terrific partners with the Manhattan Project Hanford Unit!
The Department of Energy has been working to transfer custody and curation responsibility for its collection of Manhattan Project and Cold War artifacts to educational partner Washington State University – Tri-Cities to facilitate public education, research, and museum loans. The kickoff Centennial events celebrated the completion of this collection transfer with a free public display of the artifacts and a fundraising reception at the University's Wine Science Center on September 28-29.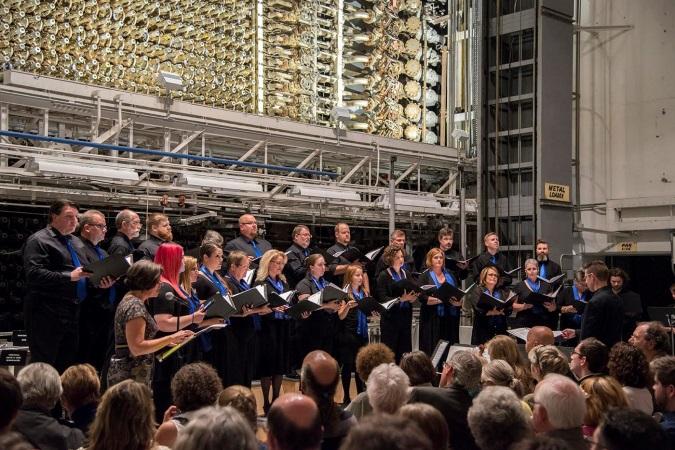 Mid-Columbia Mastersingers in concert at B Reactor
The celebration continued September 30 and October 2 with two choral concerts for 450 people by the Mid-Columbia Mastersingers inside the B Reactor. Friday evening guests enjoyed dinner and northwest wines under a lighted tent outside the reactor, followed by the concert inside the cavernous "front face" gallery of the B Reactor. Sunday's show was open to families with children. Billed as the first concert performed inside a decommissioned nuclear reactor, the Mastersingers filled the B Reactor with music – some written for the occasion – that reflected the complexity of the start of the atomic age, from spirited creation to sobering consequences and ultimately a call for peace. The television program "National Geographic Explorer" captured video and interviews at the Sunday concert for an upcoming program on the B Reactor and the Manhattan Project.
On Saturday, October 1, corporate sponsor REI worked with Bike Tri-Cities to offer a 15-mile bike ride around the B Reactor. It marked the first time visitors were allowed to drive their private vehicles to the B Reactor and the first-ever public bike ride on the Hanford Site. Riders made history as they pedaled along roads that had been installed for material production and later used for cleanup of the B Reactor area. With views for miles, abundant wildlife, and the desert in full fall bloom, participants were enthusiastic about making the ride an annual event at the Park and about looking for additional ways to incorporate recreation into Manhattan Project National Historical Park offerings.